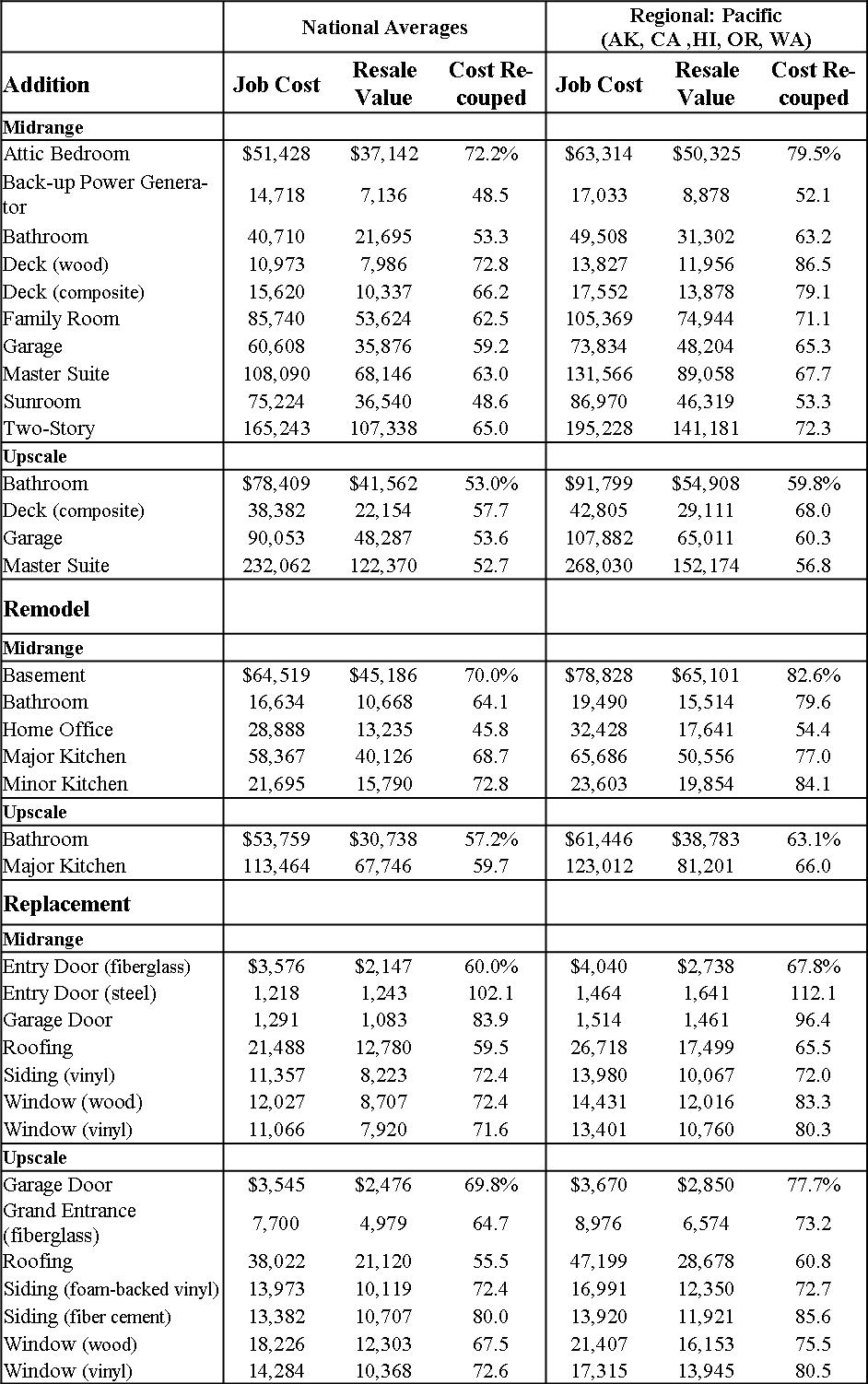 Where Is Your Money Best Spent?
How we get the numbers. Construction costs estimates are generated by HomeTech Information Systems (www.hometechonline.com) of Bethesda, MD, which takes into account construction commodity data and labor cost information from a nationwide network of remodeling contractors. The company prepares a detailed construction estimate for each project and then adjusts this baseline cost for each city to account for regional pricing variations. However, project costs are based on estimates for hypothetical projects, with no reliable way to accommodate local and short-term fluctuations in supply and demand. Resale value data for each project are aggregated from estimates provided by Realtors®. E-mail surveys were sent to some 150,000 appraisers, sales agents, and brokers in the summer of 2010, and more than 3,000 participated. Respondents were instructed not to make judgments about the motivation of the home owner in the decisions to undertake the remodeling project or to sell the home.
Using the data. The Cost vs. Value Report provides an accurate snapshot of the national housing market, but it can't be applied accurately to an individual remodeling project for a particular address. Resale value is one factor among many that a home owner must take into account when making the decision to remodel. Although the costs used in the report are based on itemized estimates, the projects are hypothetical. When comparing the data to actual remodeling costs in your area, small differences in the scope of a project or quality of finishes and accessories can dramatically affect the price. Although the distinction between "mid range" and "upscale" projects provides a range of pricing, it can't account for extreme variations in pricing that many markets experienced in 2010.
2010-11 trends. Slumping home values pulled the overall cost-to-value ration down to its lowest level this decade, extending the downward trend that began in 2006. In fact, the slide from 63.8 percent to 60.0 percent in costs recouped is slightly greater than last year's 3.5-point drop. Projects were more affordable to complete, with construction costs down 10.4 percent overall, but those lower costs were overmatched by a 15.8 percent drop in estimated resale values, the biggest decline in the last eight years.
** This information is believed to be accurate but is not guaranteed **